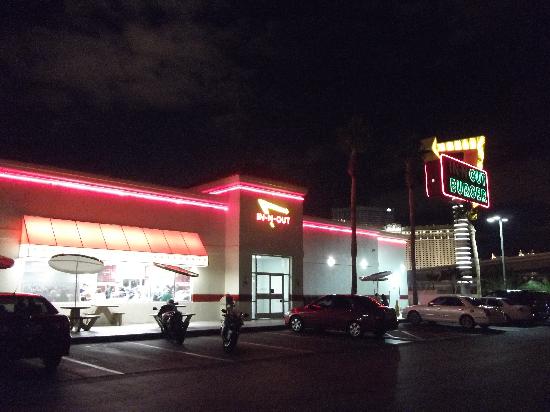 (this post taken from Where to Eat in Vegas, our other blog regarding all the latest and greatest Vegas gourmet)
When you want extra Vegas gambling money, you have to cut other things out of your budget, or go cheap on a few. We're here to put a few extra bucks in your pocket (or in the slot machines) by suggesting some places that will help you achieve that goal:
Food Courts on the Strip
This is easily one of the cheapest options–Panda Express, McDonald's, Chipotle, Subway (Casino Royale), Outback, and the like will leave you full and with more money than some of the better-tasting but more expensive other options. The Venetian's
food court is often referred to as one of the best in Vegas. You can get cheap pizza, sandwiches, breakfast, burgers, and even pastries there.
The "Secret Pizza Place" (Hallway Secret Pizza) at the Cosmopolitan
(pictured above, courtesy about.com) The not-so-secret-anymore secret pizza place at the Cosmopolitan will fill your belly but no break the bank. You can order a 16″ pie for $17, which is a steal on the Strip. The same cannot be said for staying there, though! Did we mention it's open until 4am?
The Oyster Bar at Harrah's

Grab some soup and a beer and it's under $20 at the Oyster Bar, where you'll find good quality at a great price. $12 for a half dozen oysters.
In-N-Out Burger
The closest location is on Dean Martin Drive (formerly Industrial Dr.) near the Strip, and it's worth any trip. Simply put, In-N-Out Burger has some of the best burgers at any price anywhere in the country. It makes it that much better that you can get a meal there for cheap and walk there from the Strip. "You have to have an In-N-Out Burger!" is said many times by locals and tourists alike.
Also, if you're looking for a cheap hotel to cut expenses even further, we've got you covered at The Rio for as low as $49
per night.
Don't forget our new Vegas iPhone App to track the hundreds of attractions we have in our database, complete with price ratings, photos, reviews, and contact information for all the best values in Vegas. Also, be sure to check out Vegas Hipster, find us on Facebook and follow us on Twitter!