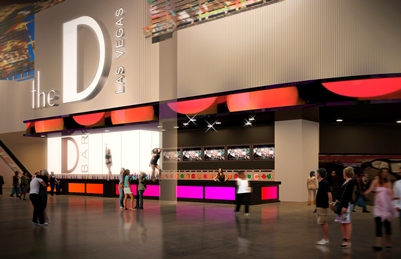 The nice thing about this one is that it'll have a little class, a little glamour, but not the big price tag of some higher-end hotels. Looks like this will be an option for those of us that want a mid-level Vegas experience:
The D Hotel, formerly Fitzgeralds, will open in Fall 2012. The name itself is a bet on a downtown resurgence (this is what the D stands for). This is one of the few openings in the downtown area in a long time, but efforts are being made to renovate the area and bring life back to a once-thriving section of Las Vegas. Learn more on the downtown revival here.
The best deal, however, is our Vegas iPhone App, which includes all the latest restaurants, shows, nightclubs, and more. Don't forget to head to What to Wear in Vegas, Stories from Vegas, Where to Eat in Vegas, Vegas Hipster, find us on Facebook and follow us on Twitter!